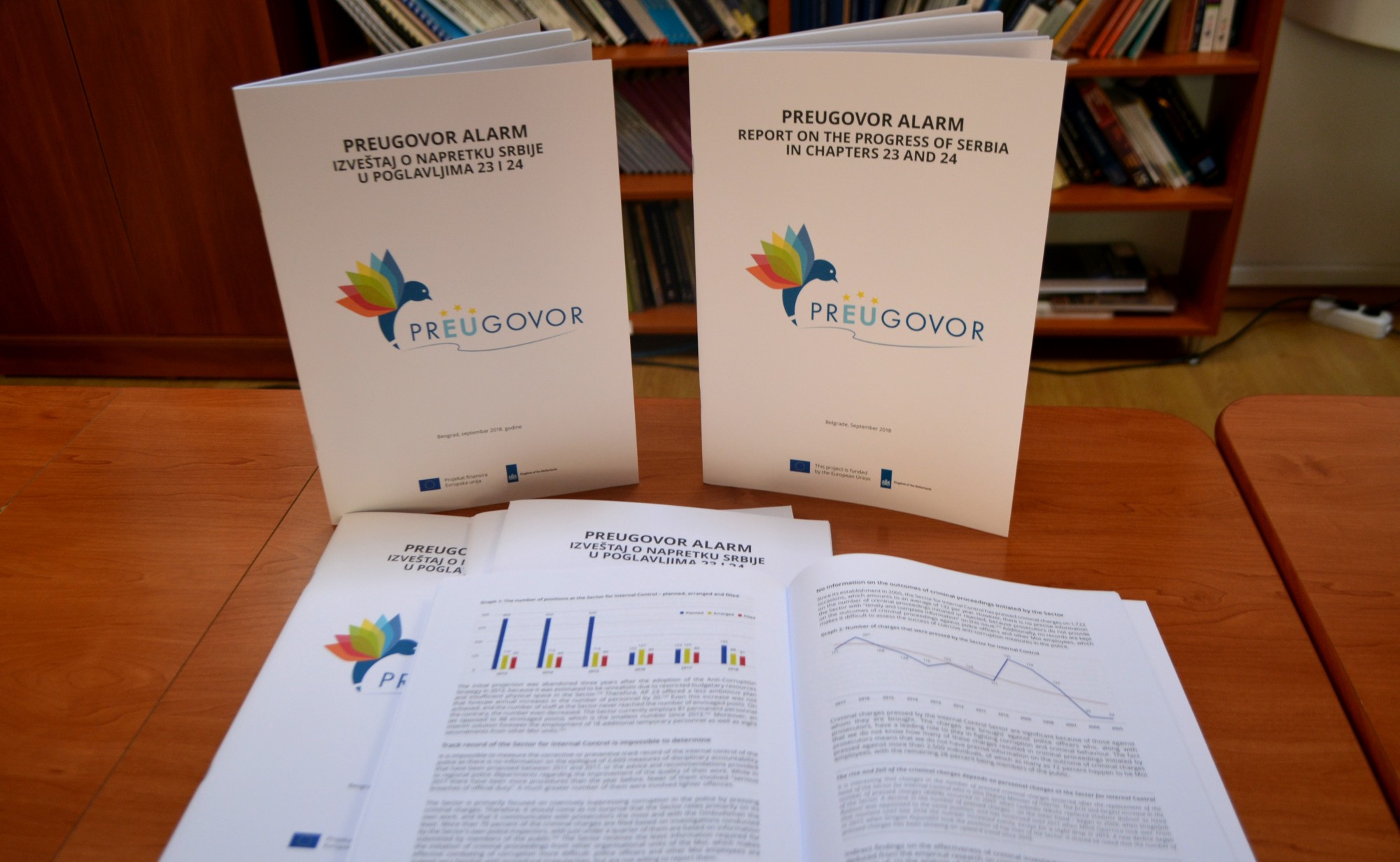 This report contains the prEUgovor coalition's assessment of the political criteria for the EU accession process, as well as the fulfilment of criteria for chapters 23 and 24 for the period April - September 2018.
The central finding of the report is that key reforms stagnate or even marks a downturn and that much of stagnation happens under the justification of accession process.
Although the EU highlights the rule of law as a priority for reforms, it seems that the executive and legislative power in Serbia is abusing the process of accession negotiations and the fact that it is currently being given "concessions" on the reform agenda due to, much hoped for, completion of the dialogue with Pristina. An example of this are the attempts recorded in the reporting period to adopt a series of laws that are worse than the current ones. The proposed Constitutional amendments, even after the adoption of minimal standards as set out in the Venice Commission's comments, do not meet the criteria for the construction of preconditions for judiciary independent and free of political influence. A drastic example is the Draft Law on Access to Information of Public Importance, which will limit the public's right to be informed about the work of state enterprises, while the Draft Law on Free Legal Aid will endanger the rights of people who use services offered by the organizations that already provide legal assistance. Also, the Draft Law on Prevention of Corruption is a step backward compared to its previous version.
The situation indeed calls for - an alarm.
MEMBERS OF THE PREUGOVOR ARE: ASTRA - Anti trafficking Action, Autonomus Women's Center (AWC), Belgrade Centre for Security Policy (BCSP), Center for Applied European Studies (CAES), Center for Investigative Reporting in Serbia (CIRS), Group 484 and Transparency Serbia (TS)
Mission of the prEUgovor is to oversee the implementation of policies in the field of judiciary and fundamental rights (Chapter 23) and Justice, freedom and security (Chapter 24) and propose measures to improve the reforms, using the process of EU integration to achieve substantial progress in the further democratization of Serbia.
Follow prEUgovor activities on the official Facebook page and Twitter account.
Publication of this study was supported by the Embassy of the Kingdom of the Netherlands in Belgrade. The opinions expressed in the publication are solely those of the author and do not necessarily reflect the positions of the Kingdom of the Netherlands.
The Action is supported by the European Union through the program "Civil Society Facility" under the Instrument for Pre-Accession Assistance (IPA). The contents of the Report are the sole responsibility of the publisher and views expressed in this document are not necessarily those of the European Union.