Upcoming elections and the dialogue on election conditions in Serbia, the work of the Serbian Parliament and the freedom of media were discussed by coalition prEUgovor representatives with members of EU administration covering enlargement, Western Balkans and Serbia, as well as think-tanks and media in Brussels, on October 2-4, 2019.
In dialogue with EU institutions' representatives, Coalition prEUgovor stressed the need for the EU to monitor Rule of Law reforms in Serbia and other Western Balkans countries undergoing accession more effectively. Since these countries have a problem with state capture, which was confirmed by the European Commission in 2018 and 2019, this issue should be addressed more thoroughly and decisively, as it was done in Macedonia in 2015 by commissioning an independent report that had overcome the gaps of regular EU enlargement toolbox. prEUgovor also welcomed new measures for protection of the Rule of Law in EU Member States.
prEUgovor delegation visited the European Parliament, Council of the European Union, as well as German and Dutch Permanent Representation to the EU in Brussels. Ahead of the forthcoming European Commission non-paper on progress in Chapters 23 and 24, prEUgovor presented its efforts in independent monitoring of reforms in these chapters in Serbia.
The delegation was welcomed in European Parliament by policy analysts and desk officers for Serbia and the Western Balkans region from the Committee on Foreign Affairs (AFET) and Committee on Civil Liberties, Justice and Home Affairs (LIBE). Special interest was shown for the dialogue regarding electoral conditions ahead of the spring parliamentary elections. This doesn't come as surprise, since former MEPs Eduard Kukan and Knut Fleckenstein are coming to Belgrade to facilitate the dialogue between Serbian opposition and ruling parties, similar to the mediating mission they carried out in Macedonia in 2015.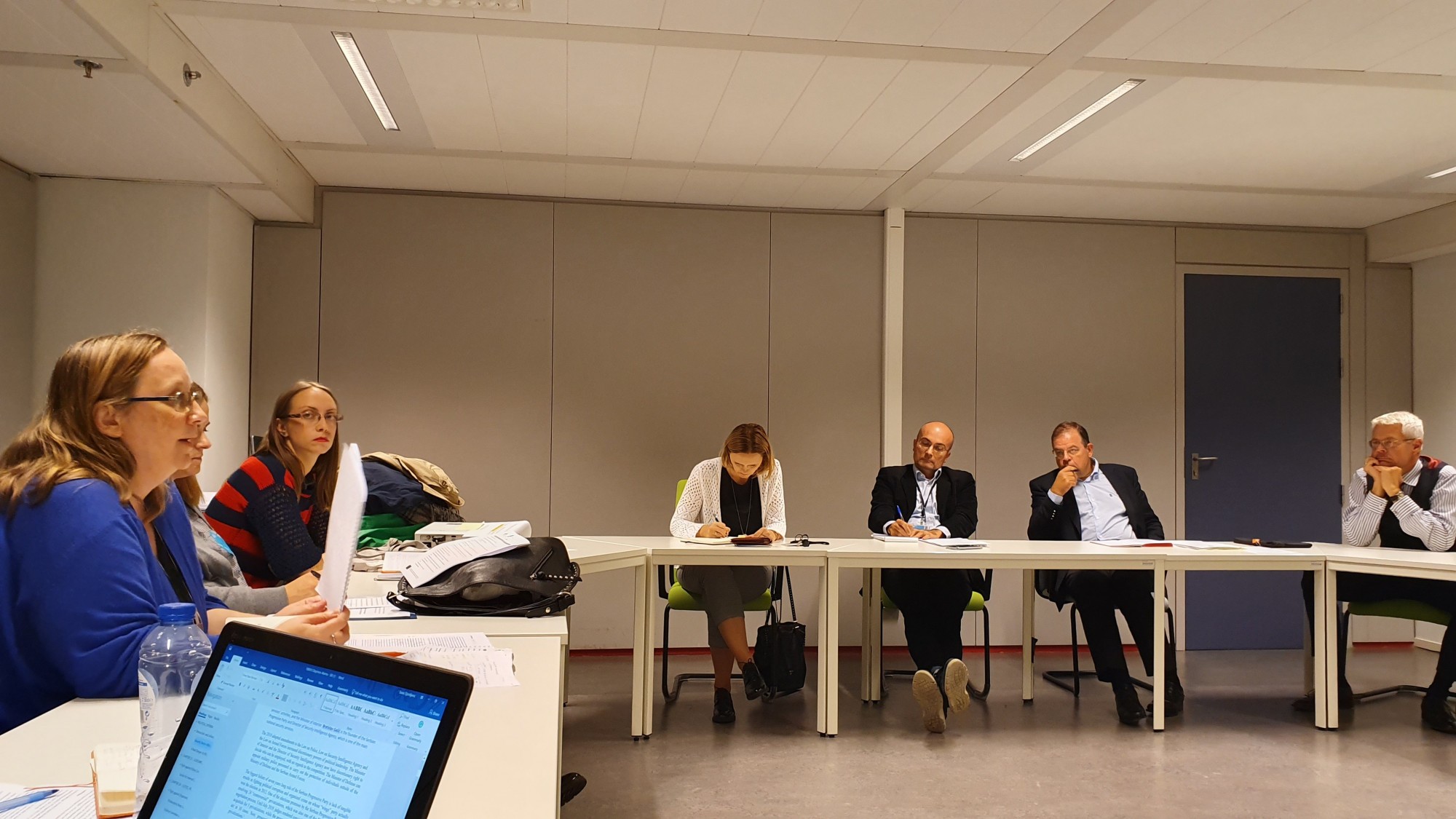 The dynamics of Western Balkans accession process was discussed in the Council's Enlargement unit. prEUgovor expressed support for opening of accession negotiations with North Macedonia and Albania, as a positive push for the whole region. The Council should reach its decision upon this matter mid of October.
Permanent Representation of the Kingdom of the Netherlands to the EU hosted a meeting of the prEUgovor delegation with several Member States' delegates in the Council Working Party on Enlargement and Countries Negotiating Accession to the EU (COELA), where assessments of developments in Rule of Law area in Serbia were discussed.
During their visit to Brussels prEUgovor representatives met and exchanged views on new EU administration and its priorities with coleagues from Brussels-based think-tanks such as Open Society European Policy Institute (OSEPI) and Centre for European Policy Studies (CEPS).
prEUgovor coalition representatives also took part in the conference "20 Year Anniversary of the Tampere Programme Progress and Future Priorities of the EU Area of Freedom, Security and Justice" organized by CEPS on 3-4 October, where topics such as data exchange, police and judicial cooperation, Schengen and migration issues were discussed.
This activity is a part of project "prEUgovor Policy Watch: Monitoring Reforms in Chapters 23 and 24" funded by the European Union. This advocacy trip was supported by the Embassy of the Kingdom of the Netherlands, within the MATRA program.
About prEUgovor
Coalition prEUgovor is a network of civil society organisations formed in order to monitor the implementation of policies relating to the accession negotiations between Serbia and the EU, with an emphasis on Chapters 23 and 24 of the Acquis. In doing so, the coalition aims to use the EU integration process to help accomplish substantial progress in the further democratisation of the Serbian society.
Members of the coalition are: ASTRA - Anti-Trafficking Action, Autonomous Women's Centre (AWC), Belgrade Centre for Security Policy (BCSP), Centre for Investigative Journalism in Serbia (CINS), Centre for Applied European Studies (CPES), Group 484 and Transparency Serbia (TS).
Follow prEUgovor activities on the official website, Facebook page and Twitter account.