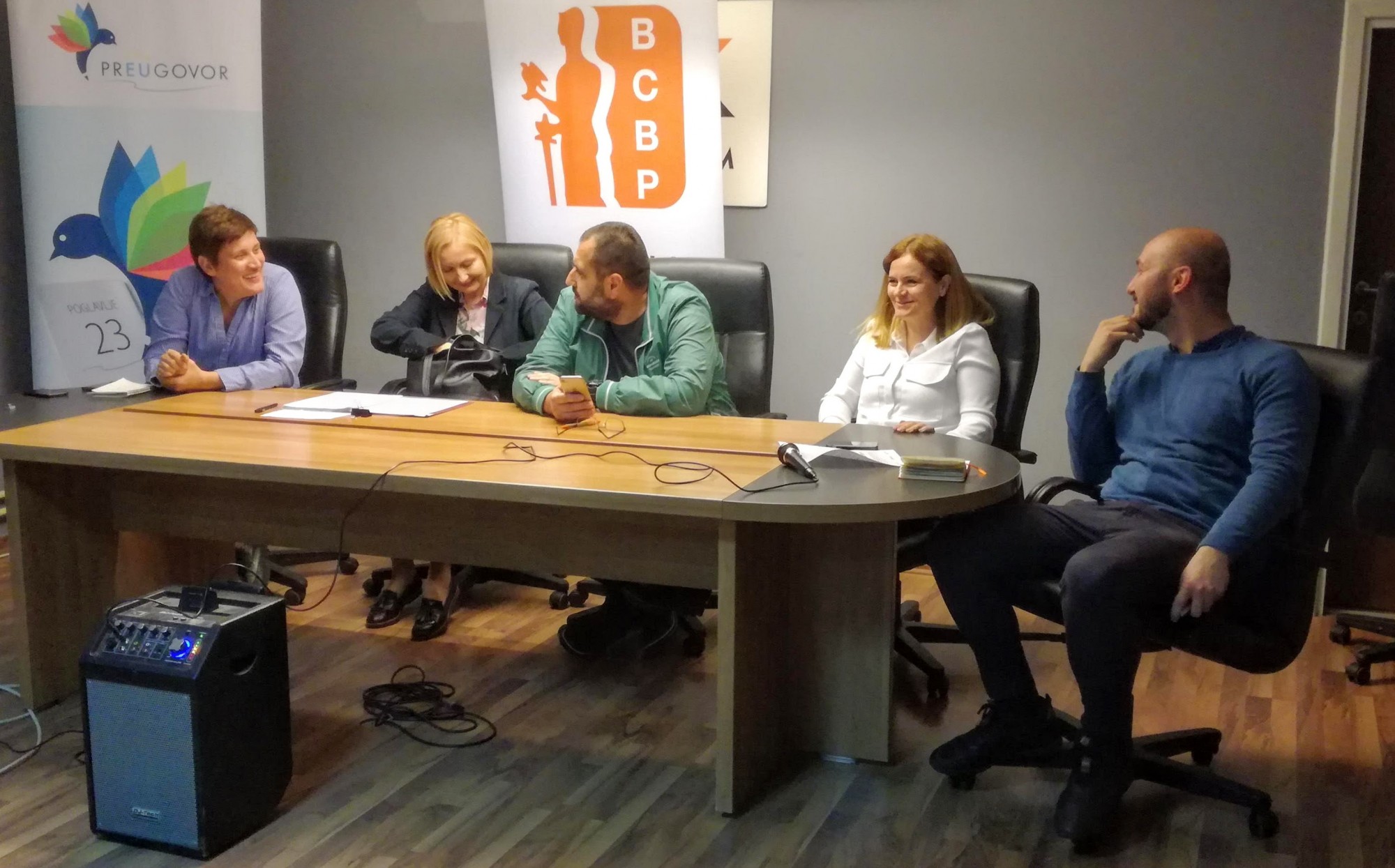 The challenges to the establishment of the rule of law in local communities and the ways local activists use to overcome them was the focus of the event prEUgovor member Belgrade Centre for Security Policy (BCSP) organized on 30 May 2019 in Kraljevo.
The local perspective of activists in Kraljevo, the national perspective from Belgrade and the Brussels' viewpoint regarding progress of Serbia in chapters 23 and 24 of EU accession negotiations, in the light of the latest Country Report, were discussed by Dragana Veljovic from Fenomena, Predrag Vostinic from Local Front, Tanja Ignjatovic from Autonomous Women's Centre and Zlata Djordjevic from Transparency Serbia. BCSP Researcher Bojan Elek moderated the discussion.
Activists from Kraljevo highlighted issues they face in their community. Veljovic shared an example: Fenomena was denied permission to have an activity on the town square, with a technical excuse.
"Institutions are treating Fenomena as competition because we provide services to women in Kraljevo, which culminated in taking away the license to conduct trainings for the SOS hotline for women victims of violence," Veljovic said.
The erosion of women's rights on a national scale, through legal changes, was the main point for Tanja Ignjatovic. Predrag Vostinic and Zlata Djordjevic discussed effects of high-level corruption on the local and national level.
The audience was engaged throughout the event, taking special interest in the topic of corruption and the emergence of government-organized NGOs (GONGOs).
The local debate is part of a joint effort by Centre for Research, Transparency and Accountability - CRTA, National Coalition for Decentralization, Belgrade Centre for Security Policy and Partners for Democratic Change Serbia to encourage greater citizen participation in decision-making process through the project "Reconnecting Democracy - Citizens in Power" supported by the US Agency for International Development (USAID). The attitudes expressed during the discussion are exclusively the views of the speakers and do not reflect the views of USAID.
The event is a part of the project "prEUgovor Policy Watch: Monitoring Reforms in Chapters 23 and 24". This project is funded by the European Union.
ABOUT PREUGOVOR
Coalition prEUgovor is a network of civil society organizations established to monitor policies related to the negotiations on Serbia's accession to the European Union, with special emphasis on Chapters 23 and 24. The purpose of the prEUgovor is to help the EU accession process to be used to achieve substantial progress in the further democratization of Serbian society.
Members of the prEUgovor are: ASTRA - Anti trafficking Action, Autonomus Women's Center (AWC), Belgrade Centre for Security Policy (BCSP), Center for Applied European Studies (CAES),Center for Investigative Reporting in Serbia (CIRS), Group 484 and Transparency Serbia (TS).
The main product of prEUgovor is the semi-annual report on Serbia's progress in chapters 23 and 24, and the coalition is also published by rEUformator - a monthly newsletter dedicated to developments in Serbia and the EU in the areas covered by these two chapters.
You can follow prEUgovor activities on the site, facebook and twitter.