The negotiations between Serbia and the European Union shouldn't be only the matter of experts, it is necessary that the opinion of the whole society is heard in that process, conclusion was at the press conference organised on the occasion of signing of the partnership between France and the coalition prEUgovor.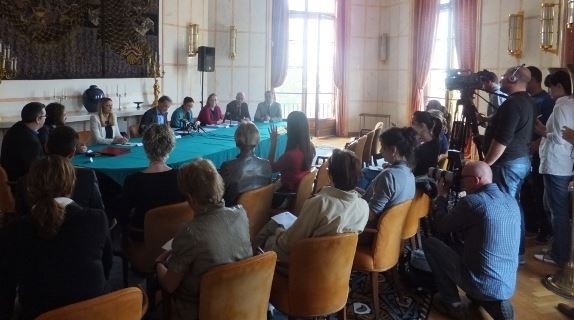 Investing in knowledge of civil society organizations is crucial support required to become equal participants in the negotiation process, said the BCSP Director Sonja Stojanovic Gajic at the conference organised on Wednesday 23rd October 2013 by the French Embassy in Serbia and the coalition prEUgovor (in English preEUnup).
BCSP Director pointed out that it is very important that civil society is on time involved in the process of negotiations with the EU.
"Only the timely involvement in the negotiation process with the EU can provide civil society organizations possibility to learn what commitment we take and what are their consequences and possible challenges in implementation. Only in that way we will be able to make this process closer to all citizens of Serbia", said Stojanovic Gajic.
The BCSP Director explained that the goal of the member organizations of the coalition prEUgovor is not to become part of the negotiating teams, but to monitor the process, from three angles:
Is what's said on paper done in practice?
Is the implementation in the interest of the citizens?
Are reforms sustainable?
The partnership convention was signed between France (French Embassy in Serbia, Permanent Representation of France to the United Nations and international organizations in Vienna), and organization ASTRA, representing the coalition prEUgovor.
French ambassador in Belgrade François-Xavier Deniau pointed out that France thinks that it is very important that the EU negotiation process is not limited to technical discussions between Serbian and European administrations experts, but that all citizens of Serbia should have the opportunity to contribute to major advances in the field of democracy and the rule of law. Therefore, France supports the goals of the coalition prEUgovor addressing her financial assistance.
"France strongly supports Serbia's access to the European Union, on the political and administrative level. In the same spirit, we decided to support civil society, which should have a significant role in the negotiations, especially in those areas related to Chapters 23 and 24", said the French ambassador.
prEUgovor is formed on the initiative of Belgrade Centre for Security Policy (BCSP) with the mission to propose measures to improve the condition in the fields relevant for the negotiation process. In doing so, the coalition aims to use the process of EU integration to help accomplish substantial progress in further democratization of Serbian society. Coalition "prEUgovor" members are: Belgrade Centre for Security Policy (BCSP), ASTRA - Anti trafficking Action, Center for Investigative Reporting in Serbia (CINS), Center for Applied European Studies (CPES), Group 484 and Transparency Serbia (TS).