It is necessary to encourage local communities to engage in the progress of Serbia's EU accession.


Researchers of the Belgrade Centre for Security Policy presented the report of the Coalition prEUgovor on the discussion forums in Belgrade, Niš, and Požega held during May 2016.
"Chapters 23 and 24 are not important only for our international future. These are more questions that concern our life and the answers on the questions - do we have a professional public administration, functional and uncorrupted police, and the judiciary that is able to protect us," said BCSP's researcher-jurist Sofija Mandic.
She also added that in the past six months we have made a certain normative shift, but that a major problem we still have is the implementation of regulations and the involvement of the public interested in their production.
BCSP's Researcher Bojan Elek, referred to the still unresolved case of the demolition in Hercegovacka Street.
"Several crimes were committed at that time-from the unlawful deprivation of liberty, through the destruction of another's property, to the police abuse. If the Chapter 24 was opened 2 months ago, Savamala incident would ran us to the blocking of this Chapter," said Elek.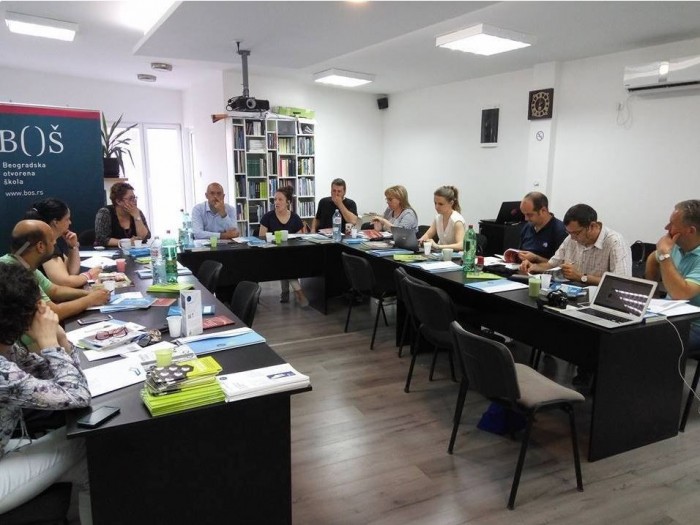 Besides the representatives of the Belgrade Centre for Security Policy, representatives of local citizens' associations and media also discussed about the need of local communities' involvement in the process of Serbia's EU accession. They agreed that the EU integration is often lead to the technically and centrally managed process, and it is essential that the local community gets engaged as soon as possible.
However, the prerequisite for the inclusion is the higher level of transparency and availability of information about the negotiations.
To achieve something like that, the local communities from Nis and Pozega will form local teams that are interested in participating in the negotiation process and thus, together, to seek for timely information about the government's actions in the accession process.
Belgrade Open School organized the forum in which the latest six-month prEUgovor report was presented within the project "Negotiations about the negotiations", that seeks to introduce the local communities with the importance of joining the EU for everyday life.