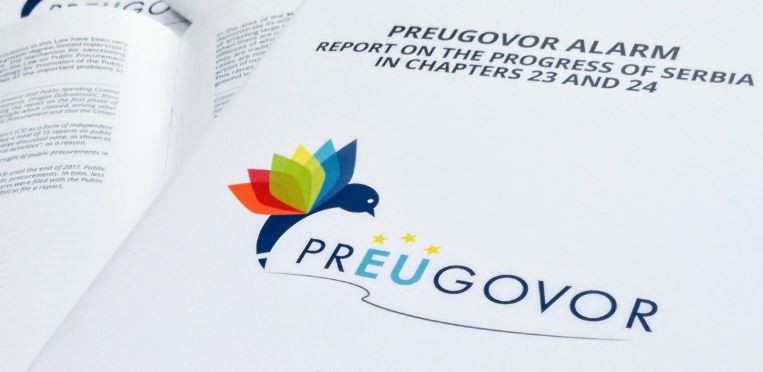 Coalition prEUgovor presents its latest Alarm - the report on Serbia's progress in implementation of policies in the areas covered by chapters 23 and 24 of the EU accession negotiations on April 16 at 11am at Media Centre in Belgrade.
During the previous year, the Government of the Republic of Serbia was evaluating the results of the reforms within chapters 23 and 24 and has been working on the revision of the action plans for these two most important chapters. Why the new plans will not yield better results than the previous ones, why there are no results in the fight against corruption, how law changes will endanger reproductive and sexual rights of women - these are some of the issues to be discussed at the presentation of the latest Alarm report.
CONFERENCE SPEAKERS WILL INCLUDE:
Marija Anđelković, ASTRA - Anti Trafficking Action

Tanja Ignjatović, Autonomni ženski centar, Autonomous Women's Center (AWC)

Zlatko Minić, Transparency Serbia (TS)
Translation to English will be provided. Please confirm your attendance no later than Thursday, April 12, by email to [email protected] or by phone at 011 / 3287-226.
The event is a part of project "prEUgovor Policy Watch: Monitoring Reforms in Chapters 23 and 24", funded by the European Union. This conference is supported by the Embassy of the Kingdom of the Netherlands, within the MATRA program.
About the prEUgovor
Coalition prEUgovor is a network of civil society organisations formed in order to monitor the implementation of policies relating to the accession negotiations between Serbia and the EU, with an emphasis on Chapters 23 and 24 of the Acquis. In doing so, the coalition aims to use the EU integration process to help accomplish substantial progress in the further democratisation of the Serbian society.
Members of the prEUgovor are: ASTRA - Anti Trafficking Action, Autonomous Women's Center (AWC), Belgrade Centre for Security Policy (BCSP), Center for Investigative Journalism of Serbia (CINS), Center for Applied European Studies (CPES), Group 484 and Transparency Serbia (TS).
Follow prEUgovor activities on the official website, Facebook page and Twitter account.